You are here:
Home
»
Products
»
Fasteners Materials
»
ASTM F2281 Inconel Bolts
---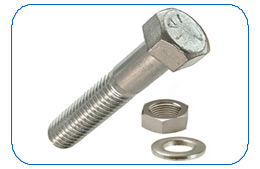 Oshwin Overseas is one of the eminent manufacturers and exporter of high Grade ASTM F2281 Inconel Bolts. Oshwin Overseas offers a commendable range of ASTM F2281 Inconel Bolts, for the prestigious clients with competitive price.
Being prominent manufacturer and exporter of a broad array of ASTM F2281 Inconel Bolts, we offer ASTM F2281 Inconel Bolts that are fabricated by our adroit professionals using supreme class raw materials as per the set industry norms. These fasteners are extensively used in various industrial applications. We offer ASTM F2281 Inconel Bolts in various specifications and can be custom designed as per the clients' given specifications. Backed by a diligent team of professionals, we are engaged in offering an excellent quality range of ASTM F2281 Inconel Bolts.
With holding years of experience in manufacturing, we continue to offer robust quality of ASTM F2281 Inconel Bolts with very reasonable prices across all over the world. We welcome your quries and happy to club you in our list to provide you with the best service of Oshwin Overseas.

---
DIN931, DIN933, DIN558, DIN960, DIN961, DIN558, DIN6914, ASME B 18.2.1, IFI-149;
Standard : ASME, ASTM, IFI, JIS, AS, DIN, ANSI
SS 304, SS 316, ISO/IS/DIN grades 4.6, 5.6, 6.8, 8.8, 10.9, 12.9, 14.9, B.S. Std-Grade S, Grade V, SAE Grade 5 & Grade 8, ASTM A193 /A194 /ASTM A320 /A 325 /A450 grade or as per specific requirement like:
• Hexagonal Head Bolts And Screws
• Special Fasteners like Thread Bolt, Bi-Axial Hexagonal Bolts, Square Head Bolts, Collar Bolts etc.
• Fasteners for Marine Purpose, all types of Resin Anchor, Anchor Fasteners, Anchor Bolt Assembly and 
  U-Hooks as per client's specification or drawing.

Inconel Steel : Bolting / Fasteners / Machined Parts

Other Material Group

Inconel Bolting

Types Of Inconel Fasteners

Duplex

Alloy

Common Name

European

UNS

ASTM / ASME

Hexagon Bolts

Super Duplex

Alloy 600

Inconel 600 ®

2.4816

N06600

B166

Threaded Bolts

Nickel

Alloy 601

Inconel 601 ®

2.4627

N06601

B166

Self Drilling Bolts

Incoloy

Alloy 625

Inconel 625 ®

2.4856

N06625

B446

Carriage Bolts

Monel

Alloy 718

Inconel 718 ®

1.4668

N07718

B637

U Bolts

Hastelloy

OSHWIN OVERSEAS manufactures Inconel Bolts, Inconel Stud Bolts, Inconel Nuts, Inconel Washers, Inconel Screws & Inconel Machined Parts in different grades such as Inconel 600, Inconel 601, Inconel 62, Inconel 718 to your custom specifications or drawing with assured quality & delivery.
Inconel is a Nickel-Chromium-Iron Alloy that is a standard material for applications which require resistance to Corrosion and heat. Inconel also has excellent Mechanical properties and presents the desirable combination of high strength and good workability. The high Nickel content gives Inconel Resistance to corrosion by many Organic and Inorganic compounds and also makes it virtually immune to Chloride-Ion Stress-Corrosion Cracking. Chromium confers Resistance to Sulphur compounds and also provides resistance to Oxidizing conditions at high temperatures
or in Corrosive Solutions. Inconel is used widely in the Chemical Industry for its strength and Corrosion Resistance.


J Bolts

Alloy 20

Eye Bolts

904 L

Set Screws

254 SMO

Studbolts / Engineer Studs

17-4 Ph

Socket Screws & Socket Cap Screws

Titanium

Socket Countersunk Screws

Stainless Steel

Heaters, Stills, Bubble Towers and Condensers for processing of Fatty Acids, Evaporator Tubes, Tube Sheets and Flaking Trays for the manufacture of Sodium Sulphide and Equipment for handling Aphetic Acid in the manufacture of Paper & Pulp, also widely used in Chemical Industries.

Washers & Nuts

Others

Machined Parts
Our Products in Inconel Bolting

Types of Bolts / Studs / Screws

Types of Heads

Types Of Nuts

Types Of Washers

Types of Threading

Types of Machined Parts

Manufacturing Standards for Bolting

Hexagon Bolts

Flat Head

Hex Nuts

Flat / Sqaure Washers

Metric

Customised Parts / Equipment

ASTM

Self Drilling Bolts

Square Head

Jam Nuts

Spring Washers

Imperial

BS

Carriage Bolts

Oval Head

Nyloc Nuts

Fender Washers

BSW

Chemical Industrial Customized Equipments / Part

DIN

J bolts / U Bolts

Round Head

Cap Nuts

Finishing Washers

BSP

Heaters, Flaking Trays

ISO

Eye Bolts

Hex Head

Flanged Nuts

Split Lock Washers

BSPT

Furnace Components

UNI

Set Screws

Pan Head

Tee Nuts

External Tooth Lock

UNF

-

ANSI

Studbolts / Engineer Studs

Truss Head

Square Nuts

Internal Tooth Lock

UNC

-

-

Socket Cap Screws

Hex Washers Head

Lock Nuts

Dock Washers

NPT

-

-

Socket Countersunk Screws

Slotted Hex Washers Head

Coupling Nuts

OGEE Washers

Left Hand Threading

-

-

Socket Setscrews

Socket Caps Head

Castle Nuts

Sealing Washers

-

-

-
Why Choose Us for ASTM F2281 Inconel Bolts
Oshwin Overseas , one of the leading Suppliers in Mumbai for Fastener & Industrial Items like , Bolts, Screws, Washers, Studs and many other related manufacturing Products, is an ever - growing firm with its high motive of Customer Satisfaction and Quality Consciousness of high attainable level. We are exceptlonal in providing best quality ASTM F2281 Inconel Bolts in competitive prices.
Some of our specialities for ASTM F2281 Inconel Bolts that make us a profitable business partner for our clients are:

• A design solution to design problem 
• Superior quality ASTM F2281 Inconel Bolts products
• Proven execution of small ASTM F2281 Inconel Bolts as well as large ASTM F2281 Inconel Bolts batch orders
• Timely deliveries of ASTM F2281 Inconel Bolts
• Customer focused approach


ASTM F2281 Inconel Bolts Packaging & Shipping:
Our packaging section for ASTM F2281 Inconel Bolts is of high standard as we do extra safty packing for ASTM F2281 Inconel Bolts in order to reach the products safely to the destination. All shipping documentation is provided for seamless delivery from mill to customers.
We Export to :
We export ASTM F2281 Inconel Bolts across all over the world like Saudi Arabia, Dubai, Turkey, Kuwait, USA, Australia, New-Zealand, Canada, Omen etc....
ASTM F2281 Inconel Bolts Application Industry :
Oshwin Overseas is involved in manufacturing of robust quality of ASTM F2281 Inconel Bolts. These ASTM F2281 Inconel Bolts are widely used in the following industries:
» Ship Building Industries
» Nuclear Power Plant
» Paper & Pulp Industries
» Sugar Industries
» Engineering Cement Industries
» Petro-Chemical Industries
» Food Industries
» Oil & Gas Industries
» Chemical & Pharmaceutical Industries


ASTM F2281 Inconel Bolts Prices List (At Factory Price)
US $0.2-0.5 / Piece ( FOB Price)

US $600-2000 / Metric Ton ( FOB Price)

US $5-10 / Piece ( FOB Price)

US $1000-3000 / Ton ( FOB Price)

US $0.018-0.189 / Piece ( FOB Price)

US $700-1200 / Ton ( FOB Price)

US $900-1400 / Ton ( FOB Price)

US $0.8-0.9 / Kilogram ( FOB Price)

US $0.003-0.42 / Piece ( FOB Price)

US $0.001-0.5 / Piece ( FOB Price)

US $0.018-1.18 / Piece ( FOB Price)

US $2000-2500 / Ton ( FOB Price)

US $830-870 / Ton ( FOB Price)

Share This Page
---
ASTM F2281 Inconel Bolts Inventory at Oshwin Overseas: